Shabbat Shalom!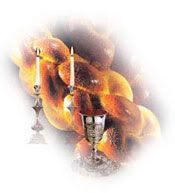 טז - וְשָׁמְרוּ בְנֵי-יִשְׂרָאֵל, אֶת-הַשַּׁבָּת, לַעֲשׂוֹת
אֶת-הַשַּׁבָּת לְדֹרֹתָם, בְּרִית עוֹלָם
יז - בֵּינִי, וּבֵין בְּנֵי יִשְׂרָאֵל--אוֹת הִוא, לְעֹלָם: כִּי-שֵׁשֶׁת יָמִים, עָשָׂה
יְהוָה אֶת-הַשָּׁמַיִם וְאֶת-הָאָרֶץ, וּבַיּוֹם הַשְּׁבִיעִי, שָׁבַת וַיִּנָּפַשׁ
"Wherefore the children of Israel shall keep the sabbath, to observe the sabbath throughout their generations, for a perpetual covenant. It is a sign between Me and the children of Israel for ever; for in six days the LORD made heaven and earth, and on the seventh day He ceased from work and rested." - Exodus 31: 16,17
Shabbat Shalom!
Parsha