Same Nazis, different decade...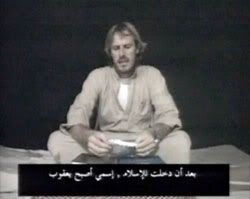 Now that the two Fox News journalists have been freed by the terrorists who kidnapped them, it will be interesting to see the reaction of the American media in the coming days to the whole affair.

What do you think the response will be?

Will Western reporters no longer go into Gaza to cover "the story" of the oppressed 'Palestinians?'

Well, if today is any indication, the whole thing will be brushed off and quickly forgotten, because the liberal media is not about to let a little kidnapping stand in the way of their love affair with 'the Palestinians.' The REAL terrorists, as we all know, are the evil Jews..
See, Two Fox journalists freed by Palestinian kidnappers in Gaza after converting to Islam on new videotape.
Both Centanni and Wiig said at a press conference today that they hope no reporters will be discouraged from telling the Palestinians' story, and that the Palestinians are a "beautiful people" whose "plight" needs to be told. Centanni said they have enjoyed the hospitality of the Palestinian people.
I think I'm gonna be ill.

Al Jazeera's coverage of the release is a revealing read:
Fox News journalists freed.

Ismail Haniya, the Palestinian prime minister, said the kidnappers had nothing to do with al-Qaeda nor any known Palestinian groups..

Videos of the captives released by the kidnappers had borne all the hallmarks of hostage tapes shot by fighters in Iraq.

"These are young men who carried out the action out of private beliefs," Haniya told reporters.

No arrests have been made... MORE>>
The word on the "Arab street" is that the kidnappers were actually Fatah gangsters. Wow, that's a shocker! Not. Another report on DEBKA File says Palestinian warlord Zakaria Dughmush kidnapped the two journalists as an Hamas operation. It's an old Arafat trick: invent a new group with a name no one has heard of before, then pretend you know nothing about any acts of terrorism (even though YOU planned and ordered the attack), and then offer to negotiate the crisis as a sincere 'peacemaker.' That's how you turn a terrorist act into a positive PR and psyops campaign. Abbas and Haniya learned from the master Arafat how to manage such affairs. You just get someone else to do the dirty work so you can play hero.
Yet all I hear on Fox News today is how unfortunate it would have been if the two journalists had been harmed, and reporters no longer went to Gaza to tell the Palestinian story! Nope, they are just so "grateful" to the terrorists, and to Abbas and Haniya, that the two journalists are still in 'good health' and have been released. Never mind the conversion at gunpoint, or what this whole affair has put their families through. And never mind the mental rape of Centanni and Wiig, and the damage that has done.
What we should be hearing from the Western media, now that the two journalists are safe, is something along the lines of, "You bastards put a gun to their heads, kidnapped them, put their families through hell, and forced them at gunpoint to convert to Islam and read a pack of lies. You have been pulling this crap, and worse, for decades. You are scum, and we won't be back to tell your 'story' again. You can all go rot in hell."
Now THAT would be the moral thing to do. THAT might actually go a long ways towards stopping terrorism. Without media coverage, the whole point of the terrorist act is lost, as most terrorism is of little significance from a military point of view. It's public opinion where the real war is being waged.
And remember what I said about UNIFIL-2 being nothing more than a shield to PROTECT Hizballah while they REARM? Seems I'm not the only one who has figured out what's going on: Kofi Annan rides roughshod over Israel's security concerns, leaves wide holes in expanded UNIFIL force. And also, European Lebanon Force Is Cast as Shield for Iranian-Hizballah Military Buildup.
What we are seeing is a rising worldwide tidal wave of anti-Semitism. The Moslems are winning the propaganda war:
Egypt Mufti: True face of blood-sucking Hebrew entity exposed

Sheikh Dr. Ali Gum'a publishes article in establishment newspaper al-Ahram in which he claims 'lies of Hebrew entity' expose 'ugly face of blood-suckers… who prepare matzo from human blood' - MORE>>
The new "final solution," it seems, is the same as the old "final solution," and a good portion of the world's nations are on board with it, including the United States. After all, the Moslems have all that oil, money, and NUMBERS on their side. It's a lot easier to blame everything wrong in the world on the Jews.