G-d and Israel vs. the nations
Information Department, Israel Foreign Ministry -


Jerusalem, 17 August 2006

Israel's reaction to the transfer of the Costa Rican Embassy to Tel Aviv
(Communicated by the Foreign Ministry Spokesman)



The government of Israel expresses its regret and disappointment at the decision by the government of Costa Rica to move its embassy from Jerusalem to Tel Aviv. This act, taken at this particular time, is liable to be interpreted as giving in to terrorism and awarding its perpetrators. Jerusalem is the eternal capital of Israel and the Jewish people and nothing will change our firm stand on this subject.
Let us be honest about the reality of the situation. There are over one billion Moslems in the world, and Moslem nations have a good portion of the world's oil. Israel is of little significance to most nations of the world, and they could care less if the Jews all disappeared from the face of the earth tomorrow, and then, they believe, there would finally be peace in the Middle East.
Here is how Al Jazeera reported the embassy move:
Costa Rica moves embassy to Tel Aviv
Thursday 17 August 2006, 3:22 Makka Time, 0:22 GMT

Arias aims to win more friends in the Middle East

The new president of Costa Rica has said that his country will move its embassy in Israel from Jerusalem to Tel Aviv, in a move that pleases Arab nations.

Oscar Arias, a former Nobel Peace Prize winner, said on Wednesday that he made the decision to win more friends in the Middle East and comply with United Nations' resolutions. - MORE>>

Well, again, let's be honest, this is more about 'pleasing Arab nations,' and not some UN resolutions, which everyone pretty much ignores as it suits them. UN resolutions hardly ever have any teeth in them, and so they are just convenient excuses at times for nations to do what they already want to do anyway.
The UN has historically been more akin to a corrupt criminal enterprise than any sort of legitimate international body deserving of any respect or legal authority. The real power lies with a small group of nations, not with the UN itself or the fictional "international community." Morality seldom, if ever, enters into the picture. It's all about power, arm twisting, and back room deals.
Consequently, those who cite the UN partition vote, or the arguments of the secular Zionists, as their 'authority' to justify the existence of the State of Israel, are basing everything on a democratic vote and claims that are forever subject to dispute. And why would you want to defend the existence of the State of Israel by citing as your authority an organization with a long record of anti-Semitism, and biased anti-Israel, pro-Moslem resolutions, statements, and actions? Besides, votes can change overnight, and disputes usually mean the matter is settled by force anyway. Human law is often arbitrary and subject to change, and democracy alone does not guarantee anything. The UN could vote to dissolve Israel some day just as easily as they voted to establish it! In the real world, Israel "established" itself by its own declaration and the armed force to back it up.
The claim of the Jews to the land of Israel is based on the covenant between G-d and Israel found in the Torah. Period. Now that can still be disputed by men, and that means conflict and force, but the Torah as the source of authority for the Jewish claim to the land is not an arbitrary human agency. Let the nations dispute it if they so choose. We shall see how it all turns out in the end...
On the other side of the coin, let's look at the case of Iran. Ahmadinejad says Iran, as a sovereign nation, has as much right to a nuclear weapon as any other nation. He is correct. The United Nations has no real lawful authority over sovereign nations. It is NOT a world government - although it pretends to be such at times. The UN can pass all the resolutions it wants, but unless they are backed up by force, they are not worth the paper they are written on. Let's not pretend that we wish to deny nuclear weapons to Iran because the UN itself has some legal right to decide who gets what weapons. It doesn't.
The reason that you don't want Ahmadinejad and the Ayatollahs to have nuclear weapons is obvious: they are insane fascist criminals and fanatics! Ahmadinejad is another Hitler wannabe, and just like the law in most places denies convicted felons their right to possess guns because of their bad character and evil intent, likewise with Iran. So the argument you make against Iran getting the bomb is a moral argument based on the criminal character of the regime. And, as with all law, even that which has a moral basis, it will have to be backed up with force. But whose "law" is it? Certainly not the UN's. It is the "law" of those nations who don't want Iran to get the bomb, and the basis is a moral argument!
So all law is arbitrary and depends on force. I would argue that the only law that deserves respect is law with a moral basis. And where does this morality come from? Who defines what is "moral?" Now that's the $64,000 question, isn't it? I will leave everyone to think on this, because it lies at the very basis of what we call "civilization."
----------
A moment to be seized in Lebanon By Charles Krauthammer
http://www.jewishworldreview.com/

The charm of any U.N. Security Council resolution lies in the preamble, which invariably begins by "recalling" all previous resolutions on the same subject that have been entirely ignored, therefore necessitating the current resolution. Hence newly minted Resolution 1701: Before mandating the return of south Lebanon to Lebanese government control, it lists the seven Security Council resolutions going back 28 years that have demanded the same thing. - MORE>>
See also, Annan Says Israel Violated U.N. Resolution . And of course we all know Kofi wouldn't jump the gun before the facts are known, and Hizballah's right to arm itself must, after all, be protected. Lebanon must defend itself against the evil Zionists. Oh wait, that's right, the UN resolutions said Hizballah was supposed to disarm (no armed militias in Lebanon and all that stuff, remember), so I guess Kofi will take care of that. If only Israel would just learn to trust Annan! He is, after all, a man of his word... right? And we all know what that's worth.
----------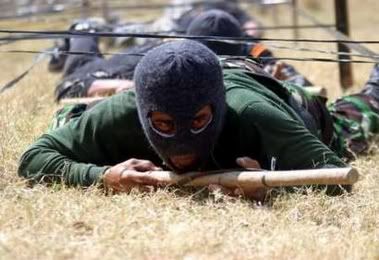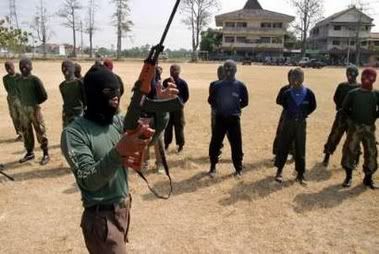 Members of the militant Indonesian Mujahidin Council (MMI) conduct exercises in Solo, central Java August 20, 2006. The militants say they would volunteer to fight Israel if given the opportunity. REUTERS/Andry Prasetyo (INDONESIA)
Indonesia is one of the Moslem countries offering to send troops to Lebanon under the expanded UNIFIL. Israel today again rejected the deployment of troops under UNIFIL from countries that do not recognize Israel and have no relations with Israel.
France, and a number of other Middle Eastern Arab states, have now offered to sell weapons to the Lebanese Army. France and the United States have both maintained that the Siniora government must be propped up because it was democratically elected and is the legitimate government of Lebanon. Never mind all the pro-Hizballah, anti-American, anti-Israel statements by various members of the Lebanese government, nor the fact that Hizballah is now poised to possibly control that government come next elections, thanks to Nasrallah's hero status and all the Iranian money flowing into Lebanon through Hizballah. Never mind that the Lebanese Army is full of Shiites who openly support Hizballah, and that the Siniora government thanked Hizballah for defending Lebanon and called them "our Moslem brothers." Lebanon is a terrorist state, and who cares if it was democratically elected. All this only proves is that democracy is a very dangerous form of government when the people themselves do not adhere to moral principles and are of degenerate character, or subscribe to a fanatic fascist ideology like Islam.
It was not all that long ago that Ariel Sharon really upset the French when he called for all Jews to leave France because of the rising anti-Semitism there, and yet this is the "lead" nation in the new UNIFIL. France has now openly sided with the Arabs against Israel, and it was totally predictable. George Bush and Condoleezza Rice had to know all this, so the Bush administration is playing Israel for a fool. Is Israel simply "bait" in a larger American scheme?
So let's arm the Lebanese to the teeth, and protect and rearm Hizballah through the auspices of the UN and the nations supplying troops to the 'new and improved' UNIFIL. Any sane person can only interpret this as laying the groundwork for an even greater attack on Israel in the future. So is Israel an expendable pawn in the U.S. scheme of things? It would appear so. Is Olmert really Armilius the Wicked, the Anti-Moshiach? Will Moshiach now soon appear in Tsfat, to ultimately destroy Armilius with the 'breath of his mouth' as is predicted? All the nations are now gathered against Jerusalem and Israel.
I am not qualified to answer these questions, and will defer to those rabbis who are experts in these mysteries, and in Torah and Kabbala. All I can say is that I am now paying very close attention to what these learned Tzadiks and scholars are saying these days and to events.
----------
Other stories that caught my eye today:
Hezbollah night-vision gear was from Britain, Israel says
Weaponizing Civilization: The New Way of War (Well, I have been pointing this out all along. The distinction between "combatants" and "civilians" is meaningless to Islam and the jihad against non-Moslems. Islam allows for no such distinction , nor for qaideen (ones who remain incactive, don't actively fight), and even the children are considered to be mujahideen (lit. "strugglers") fighters and martyrs for the spread of Islam. See, "Ask For Death!", a PMW released video on the indoctrination of children to seek Shahada, or "martydom for Allah."